I can't believe its February already. Didn't we have new years eve like yesterday? Anyway, time for our monthly update on the two niche sites I have been growing and sharing with you all.
A little Preview for new subscribers: I am growing two niche sites, one in outdoor niche & the other in tech review niche, and I share monthly updates in my monthly e-mails.
I can surely say that January was my most successful month in terms of traffic & revenue both. I have been publishing a lot of content in the past few months and I am now seeing the fruits. So, without further due, let's get to the numbers.
Overall Traffic
Both sites saw a huge traffic bump in January. Even my outdoor niche site saw a 99% growth compared to December 2021 despite being out of season.
Both sites combined, the total Pageviews for January 2022 = 49,344
Below are screenshots and traffic stats for each site.
Site 1 (Tech review niche) Pageviews : 29,279 (132% increase MoM)
Site 2 (Outdoor niche) Pageviews : 20,065 (99% increase MoM)
Revenue (Ads + Affiliate)
Coming towards the juicy part that is $$$, I would say this was my best month as well.
To keep this in perspective, Q1 is notorious for display ads revenue. It's the time of the year when all advertisers are hoarding their marketing budget because its start of the year and buyers have just exhausted their pockets on Christmas & New year shoppings. The Ad revenue index ALWAYS go down in January.
Site 1 (Tech niche): Earnings
Ezoic Ads : 488.88 USD

Amazon Affiliate : 62.93 USD

Total Earnings : 551.81 USD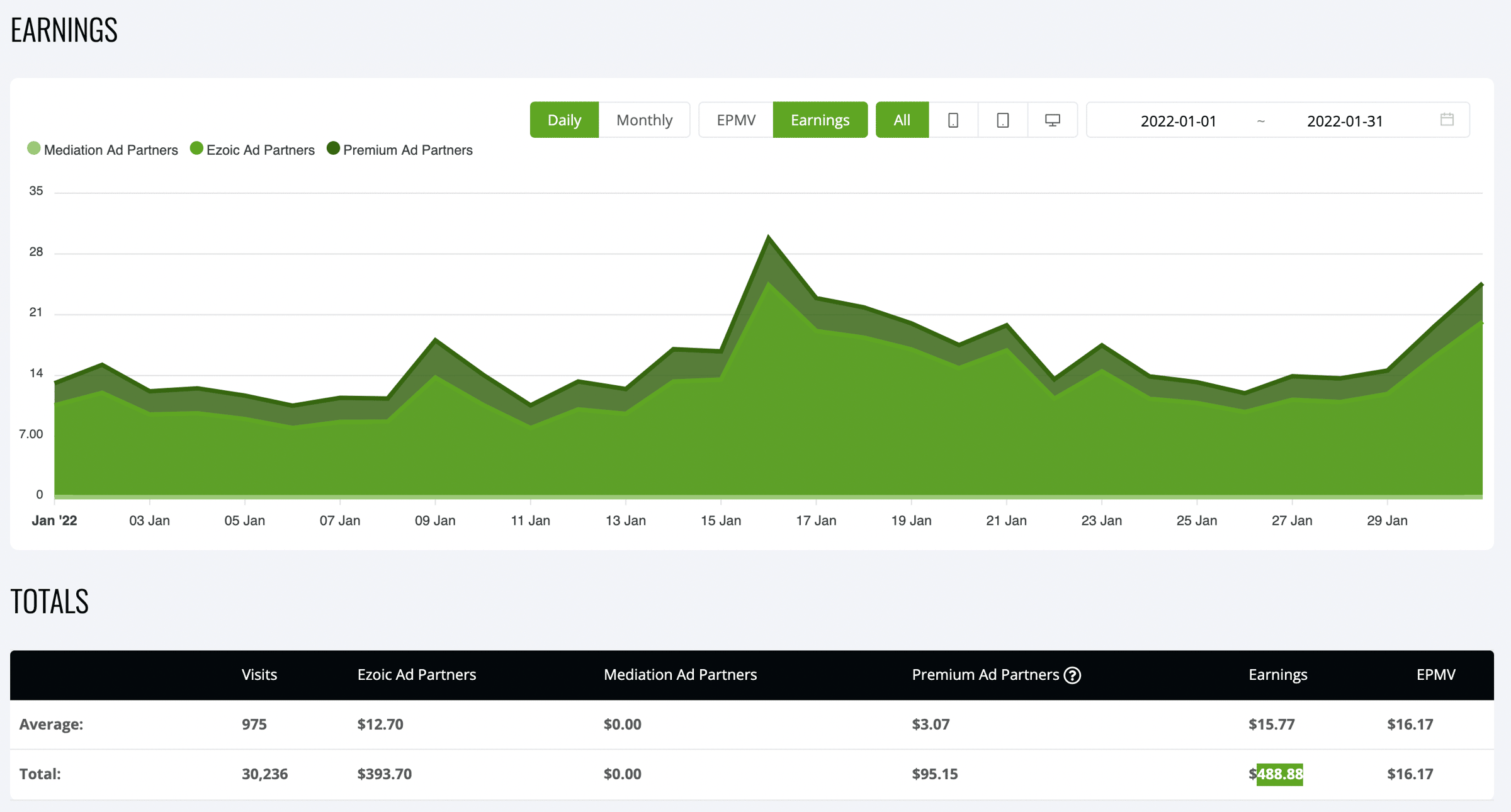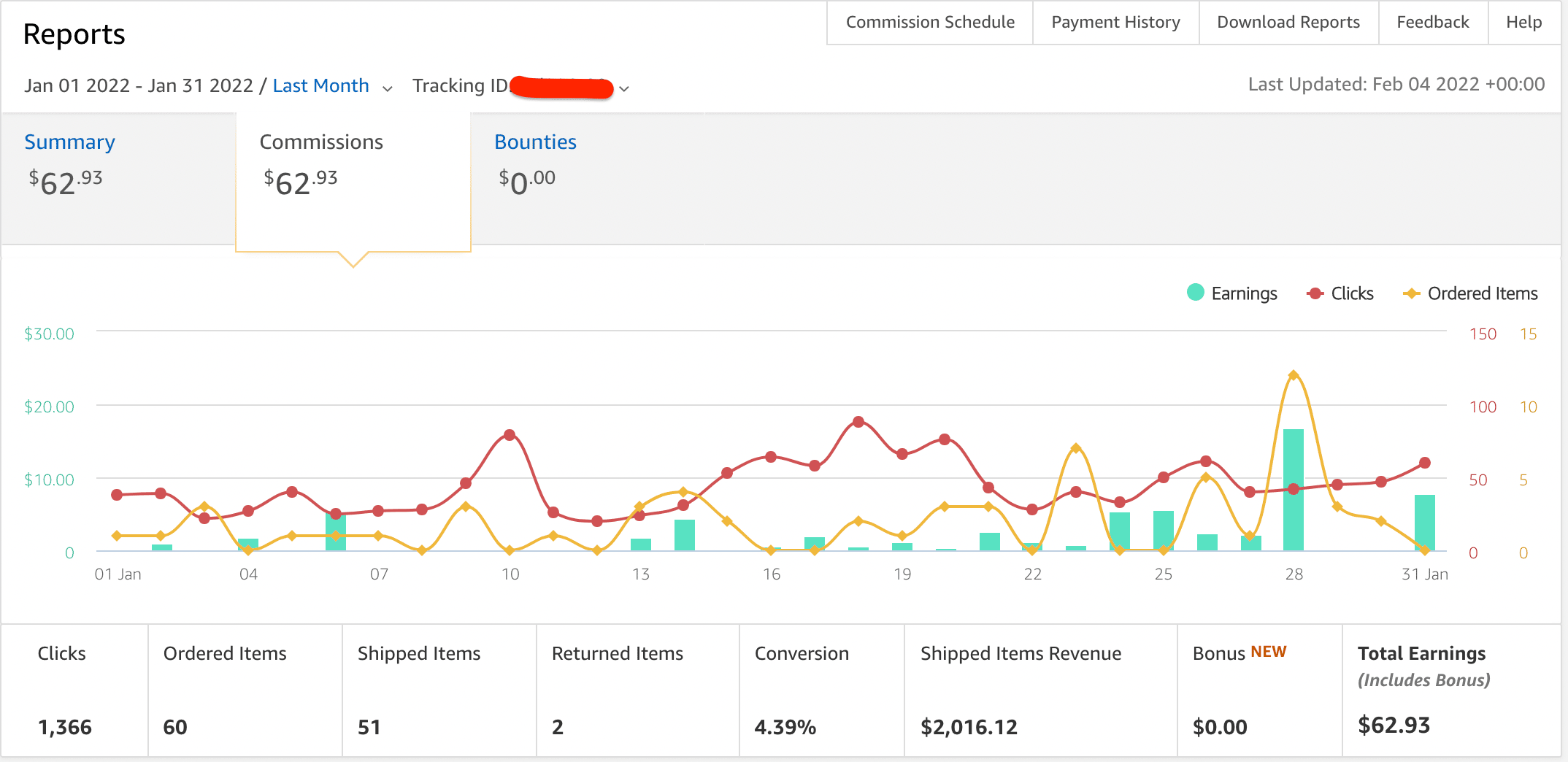 Site 2 (Outdoors niche): Earnings
Ezoic Ads : 431.11 USD

Amazon Affiliate : 336.20 USD

Total Earnings : 767.31 USD
Overall Portfolio Earnings
Ezoic Ads : 919.6 USD

Amazon Affiliate : 399.13 USD

Total Earnings : 1318.73 USD

Ezoic Premium Charges : - 110 USD

Net Profit : 1208.73 USD
I am missing a few component of monthly expenses to correctly estimate my net profit but its not much. I write 100% of my content so there is no cost involved there. The only few things missing from expense reporting are monthly hosting charges (less than 5 USD) and a few paid plugins I use. I am going to include them in my calculations from next month onwards.
Few Lessons from this month
Since I am pretty much new to niche site & blogging, I am learning a lot every single day. Sometimes, I am more excited about the knowledge than the traffic & revenue because I know I can make so much more with that knowledge in coming months (also, my blogging revenue is not my main source of income right now)
A few lessons I learned from my recent growth in traffic & revenue.
Keyword research is more important than anything - no matter how 'great' your content is and how authentic your research is, if you are targeting the wrong keyword, it's probably not going to rank. A good keyword research is the corner stone of any successful piece of content you publish. Since I switched to a new way of finding low competition keywords (I wrote a Twitter thread), I am seeing a huge bump in my traffic. Get your keyword research right before you can get your content right.

I recently started writing more contemporary articles on my tech site - articles discussing things that are happening in the industry right now including news, product releases etc and found them working really well. They are bringing in a lot of new traffic. I am going to blend them with more timeless content for both short term & long term traffic gain.

Comparing site#1 & site#2 affiliate revenue, I noticed a stark contrast ($62.93 vs $336.20). I should be earning more affiliate revenue with the tech review site. This month, I am going to focus more on that.
That's all for this month folks. Thanks for reading through. See ya next month!!
- Ahmed
​
---
My go-to tools for niche site development & SEO
Going forward, with each monthly update, I am going to list my favourite tools that I use for growing my own niche sites. Some of the links are affiliate (marked 'aff') while others are not. But I use all these tools personally in my day to day work and I can honestly vouch for them.
Web Hosting: For web hosting, I use SiteGround (aff)- one of the best in business. I have been with them for past 7 years. Zero issues.
Keyword Research: I am big fan of Ahrefs. No other tool come even close to this. For long tail easy to win keywords, I use Low Fruits (aff)
Fiverr: For small website fixes, writing services, research work or any other freelance work, I go straight to Fiverr (aff)
Display Ads: Display ads are major part of my earnings. I use Ezoic (aff) for that. You can 5x your Google Ads revenue with Ezoic AI platform.
Jarvis AI: Big fan of Jarvis (aff) as it helps me break the writer's block and write faster
Canva: I am not a designer so for all the graphics on my blogs, I use Canva (aff).
GeneratePress: Generate Press(aff) is my goto theme. It's fast & customizable.
​
​